How To Increase Association Membership Using LinkedIn
In this post Matthew Berman, Ember Networks CEO, offers Five Tips For Increasing Your Association Membership On LinkedIn
Every association or public board wants explosive growth, attracting talented and connected members. New members help bring a fresh influx of ideas, connections, and membership fees. Associations can sometimes be an exclusive or niche club, and while identifying prospects for boardroom membership can be a challenge, it doesn't have to be.
Here are five tips for your association to improve membership using LinkedIn groups.
1. Create Content
Showcase what your board or association is up to by creating and displaying content on your blog or website. There's lots of your association could feature to entice new members. They'll want to know what actions your board takes to accomplish it's goals, the board's stance on important issues, benefits to board membership, and more.
Some content ideas to consider are:
Writing a white paper detailing how current government policies affect members and their industry.
Curating industry related articles while providing an opinion or response to said articles.
Providing rich multimedia such as film or photographs about association sponsored events.
Offer insight developed from the members experiences which could benefit prospects.
2. Locate Group Discussions
Search through LinkedIn groups (you can search through groups by clicking on the button to the left of the search bar and clicking "Groups"). There are groups for all sorts of industries. These groups play host to discussions and are frequented by hundreds, if not thousands, of people in your profession. LinkedIn offers both open and private groups. When joining a private group your membership has be to accepted by the group creator.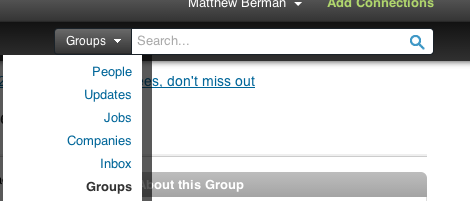 LinkedIn also has a set of tools to help determine the demographics present within the group. Once you've found a relevant group look on the right hand side of the group membership page. You will find a box called Group Statistics. The Group Statistics tool gives you easily digestible bits of graphically friendly information. You can find:
The number of members in a Group,
The seniority level of Group members,
The job function of Group members,
The location of Group members,
Much more.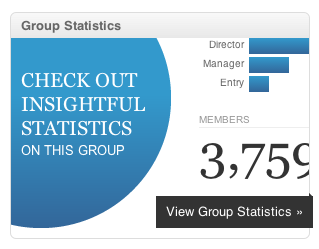 Group statistics can really help you narrow down which groups to focus on. If your board association targets mostly Senior level executives, make sure the LinkedIn group has an appropriate amount of prospects. Take your time and find the right LinkedIn groups for your outreach campaign. It could be the difference between failure and success.
3. Offer Value
A great thing about LinkedIn groups is you can create and engage in discussion with other professionals. Don't go in and spam advertisements for your board. Position your board as experts in your field. Showcase your knowledge and solve problems, share relevant news, and, if relevant, link people to the content you previously created in step #1. Make sure to offer value in these interactions. Too many people make the mistake of trying to be too self-serving. The best way to position yourself as an expert is to really help others. Too often we forget the intricacies of networking when hiding behind digital communication tools but behind every avatar is a real person and building relationships is about building trust.
4. Identify Prospects
After connecting with LinkedIn Group Members through continued discussion you'll be able to further develop these connections. Turn strangers into friends. You can certainly use LinkedIn's toolset to connect (via a personalized connection request, In-Mail, etc.) and take the conversation offline.
5. Review & Refine
When running any digital marketing campaign you've got to always be testing. Test for conversion rates, track your time, test your copy, test all of it. I recommend setting up custom links for each group when you are posting proprietary content. This will help you to more actively measure click-through-rate from group to group. For example, when working outreach in the group "LinkedIn #1″ you can set up a custom bit.ly link reading bit.ly/link#1. Track all of the incoming traffic from that link URL. When working outreach in another group, set up another bit.ly link and measure your effectiveness there.
[alert type="success"]Would you like to know more about Marketing on LinkedIn? Would you like to know more about marketing on social media networks? Contact Ember Networks today for a quote on our digital marketing services.[/alert]