In this post Matthew Berman, CEO of Ember Networks, discusses recent changes in Google's Local Search and Google Maps. He will explain the changes, offer statistics on why you should be paying attention, and offer detailed steps your business can take to take advantage of the changes. 

Google Loves Local Search Results And So Should You
On May 15th Google presented their annual I/O Developers conference.  At this event Google announced and demonstrated an overhaul of their local search algorithm and user experience design.
Why You Should Care About Local Search
Local Search on Mobile Devices Quadrupled in 2012
50 percent of mobile search is local.
61 percent of local searches result in purchases.
50 percent of smartphone shoppers use a GPS/mapping app to find a retail location.
Only 33 percent of advertisers have a mobile optimized website
Sources:
(http://searchenginewatch.com/article/2260013/Google-Local-Bible-for-SMBs)
http://searchenginewatch.com/article/2266201/Local-Search-via-Non-PC-Devices-Quadrupled-in-2012-Study)
What Are The Changes To Local Search Results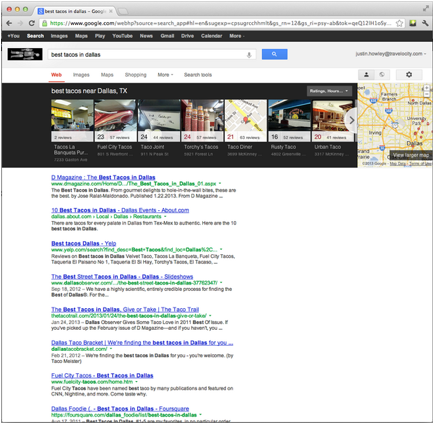 Google is going to place increasing prominence to local search results by making them visually more attractive to users. At the top of the search results page Google will display images of the business, a local location marker and a 1-5 star review We expect these visual elements will result in even more click-throughs making this digital real-estate very valuable to businesses.
GOOGLE MAKES MAPS LOCAL
Also announced at Google's I/O developer conference is a complete revamp of Google Maps.  There is an overhaul to the user interface including many visual changes to icons and colors.
What Google Maps Changes Will Most Affect Businesses
The new Google Maps are putting a focus on "discovery" of local businesses and will be recommending these businesses when users perform relevant searches. I think you guys have a huge opportunity here .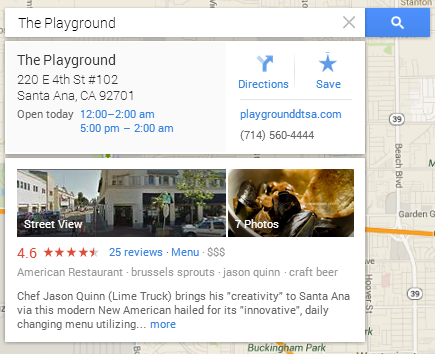 Business listings on Google Maps get a visual update complete with a plethora of information and photos about your business. Google is choosing what information to display based on interaction and information provided within Google+ business pages. The business listings cards will include information such as:
Business Name
Business Address
Directions to the business
Phone Number
Photos associated with the business
Pricing information
A 5 star rating system
A menu (for restaurants)
A description
More
A notable visual change on the new Google Maps is the way Google presents local businesses. Previously, businesses were featured on a list.  Google will now show local businesses as determined by their location on the actual map.
A major addition to the Google Maps platform is an "Explore" option. This option will allow users to decide what they want to do by presenting local businesses and attractions on the map.
You'll also be able to sort local businesses via  "top reviewers" and an option called "Your Circles".  The "Your Circles" option refers to the "friends" area of Google's social network Google+ and indicates increased integration between Google+ and other Google products.
When a user clicks on an area of the map they will be able to browse local businesses. This is a big opportunity for brick and mortars looking to capitalize on foot traffic.
RECOMMENDATIONS FOR LOCAL SEARCH AND MAPS
To get started ranking your business for Google Local Search results we recommend beginning with the following:
1. Lock down and optimize your Google+ Local Page
Google local search results are tied closely with Google+ and Google puts an inordinate amount of interest in it when ranking content. Set up a Google+ Local Profile for your business. Make sure this page is filled out to 100% completion. Don't forget to include 10 photographs of your business in the allotted space. Encourage your customers / clients to fill out Google + reviews.
2. Keep your Google+ Business Page Updated
Consistently fill out status updates with engaging content. We recommend working off a content calendar to make this process more manageable.  The best content is interesting to your target market and will result in shares and comments.
3.  Generate Business Citations
Mentions of your businesses NAP (name, address, and phone number) across the web help bring authority to your local listing, and, ultimately, increase local rankings. You can get citations through job boards, review sites, classifieds, meetups, seminars, etc.
You can watch the full Google I/O Developer Conference keynote at https://developers.google.com/events/io/