New Orleans, LA. May 2, 2013  – Ember Networks is excited to announce the launch of "The Invisible Sale" website. "The Invisible Sale" is the upcoming book from Tom Martin, CEO of Converse Digital. The book details Martin's experiences using digital tools for growing B2B business leads.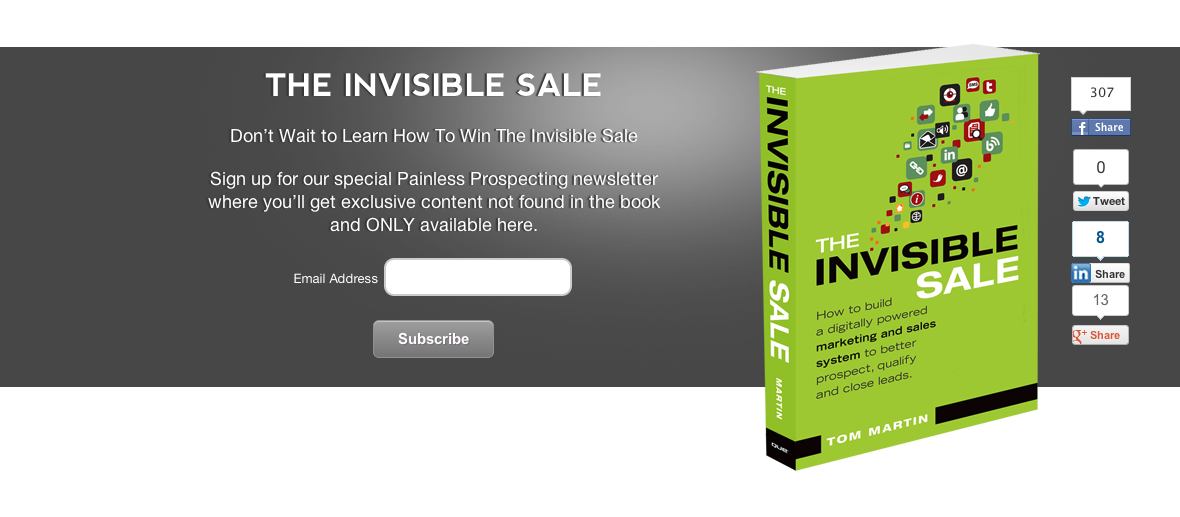 "Ember Networks and Converse Digital enjoy a long standing working relationship, partnering on a variety of digital marketing projects from social to web development to email", Matthew Berman, CEO of Ember Networks explained. "Tom Martin is one of the smartest guys in any room. He knew exactly what he wanted with 'The Invisible Sale' website and I'm glad we were able to exceed his expectations".
Ember Networks and Tom Martin decided the launch site needed a prominent header showcasing a physical copy of the book. The header was designed to encourage email capture capture and social sharing. Sharing capabilities were custom coded with specific messages tailored for each social network.
The Invisible Sale website allows the visitor to easily preorder the book through Amazon or Barnes and Noble. Additionally, Ember Networks worked with Oktopost to integrate a powerful analytics package throughout the site. Content on "The Invisible Sale" website will continue to grow as the release nears.
"The Invisible Sale" by Tom Martin will be available in major book retailers Amazon and Barnes and Noble on October 23, 2013.
About Ember Networks
Ember Networks is a digital marketing agency headquartered in New Orleans, Louisiana. The agency offers a wide range of advertising services to clients including web development, social media marketing, search engine optimization, branding, mobile marketing, and mobile application development. Since the firms beginnings in 2011 Ember Networks has worked with clients in healthcare, alcohol, real-estate, political, and digital industries among others. For further information, please visit www.getwithember.com
About The Invisible Sale
The Invisible Sale is the upcoming book from first-time author Tom Martin. Martin is an advertising veteran with 25 years experience serving several agencies and a multitude of clients. He is CEO and founder of Converse Digital and has written for Ad Age and often tours the United States speaking about B2B marketing processes.