Ember Networks launches Slice Pizzeria Mobile Site
NEW ORLEANS, LA, May 1, 2013 – Ember Networks, New Orleans based marketing firm, has launched a mobile optimized website application for Slice Pizzeria.
Slice Pizzeria's mobile site makes it easier than ever to access the information you need when searching for restaurant data. The mobile website provides contact information for each of Slice Pizzeria's two restaurants in the Greater New Orleans Metropolitan area. Users can provide geo-location data and get directions to the nearest restaurant, and can easily interact with the restaurants across a variety of social networks. The highlight of the mobile site features a fully functioning menu with SinglePlatform compatibility.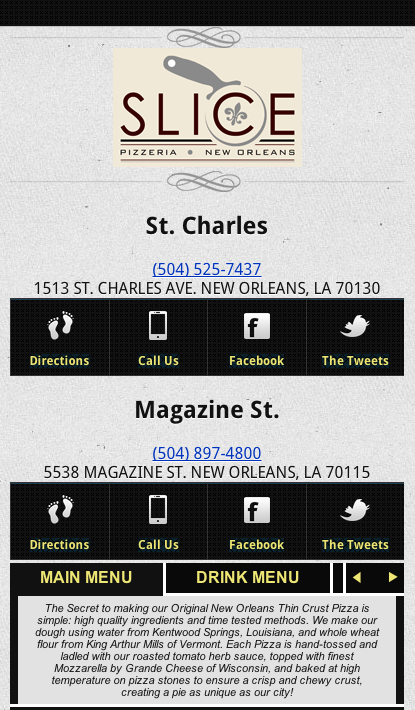 "Mobile websites are about providing users with the information they need, as fast as possible", explained Matthew Berman, CEO of Ember Networks. Berman added, "We pride ourselves on developing user interfaces that not only look friendly, but are designed with heavy consideration to how our clients business operates. We want them to succeed financially.".
The launch of Slice Pizzeria's mobile website is apart of the companies' digital initiative to provide up-to-date menu information, specials, and branded content across social networks and digital devices. They have partnered with Ember Networks because Ember web development services provide customers quick and easy access to the information they want to receive.
Visit Slice Pizzeria from a web enabled phone today.
About Ember Networks
Ember Networks is a digital marketing agency headquartered in New Orleans, Louisiana. The agency offers a wide range of advertising services to clients including web development, social media marketing, search engine optimization, branding, mobile marketing, and mobile application development. Since the firms beginnings in 2011 Ember Networks has worked with clients in healthcare, alcohol, real-estate, political, and digital industries among others. For further information, please visit www.getwithember.com.
About Slice Pizzeria
Slice Pizzeria is New Orleans' favorite pizza joint. Since 2003, Slice Pizzeria has been serving up New Orleans style pizza in two locations – Magazine St. and St. Charles St. Slice Pizzeria features local and organic ingredients. Slice is owned and operated by the restauranteurs behind Juan's Flying Burrito and Lucky Rooster.